Google Maps Shows 3 Instead Of 7 Local Results
Google's local pack now has fewer businesses listed. The 7-pack is now the 3-pack.
Last week Google Maps made a significant update to how Google Maps shows local listings in a web search. Before, users would see 7 local listings, and today they only see 3! But that is not all that has changed; Google made layout changes to be more streamlined for their mobile interface.
Screenshot of the new Google Maps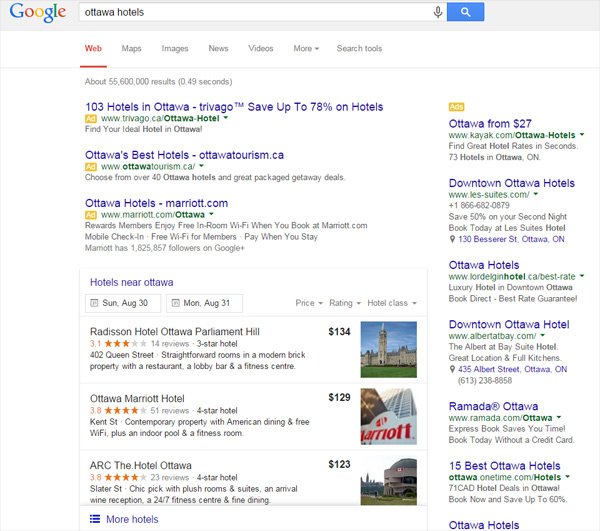 The implications to local business
What does this all mean and why should you care about this update? First, there are a few obvious but key implications of this new display:
There are less changes for a local business to show up in local search results
Less local businesses will receive less traffic to their site and less phone calls
There is more room for organic search results and/or paid ads
It's more important then ever for a local business owner to ensure their site is fully optimized so that they are in 1 of these 3 map positions as doing so can give your business a boost above the competition.
What a local business owner can do to be in the Google Maps 3-pack
Here's the good news: It's possible for your business to be in the local search results free of charge. Now for the bad news: It will take a lot of time and effort because just like you, your competitors are also trying to out do you to be in one of the top 3 spots. There is no magic trick or fast process to get your business in the top 3, but here are a few things you can do to ensure you give your business the best possible chances:
Make sure you have set up and optimized your Google My Business Profile.
Ask your customers to provide legitimate, real Google Reviews of your business.
Make sure you have signed up for free local online directories, and that your business name, address, phone number is in the exact same format across all of these directories.
Have a mobile friendly website as Google gives a lot of weight to sites that have a mobile version of itself. If you don't have a mobile site you are hurting your online mobile search rankings. To check whether your site is mobile friendly, ask Google.
Need Help?
As a small business owner I know that other small business owners are busy managing their client base and while they understand the importance of maintaining a good Google presence, they may not have the time or knowledge to do it themselves. If this sounds like you, please contact me and I will gladly help you get better Google rankings in Google Maps and Google Search.